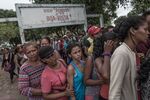 Mr. Saik touched a raw nerve when he released "La Chama."
Panama's hit single is about a Venezuelan woman who "fears nothing but immigration officers," and "was famous in her own country but here does something else" — the something else presumably being prostitution.
Hundreds of thousands of Venezuelans fleeing economic collapse are crowding into cities and makeshift camps in Colombia, Brazil, Ecuador and throughout the region, the largest mass emigration in modern Latin American history. The Panamanian song, which brought the singer death threats from aggrieved migrants, reflects a growing friction. The sympathy that greeted early arrivals, many wealthy professionals, is giving way to fear and resentment of the poor and desperate. It is evinced by outbreaks of nationalistic insults, harassment and even violence.
via drudgereport.com
For decades, oil-rich Venezuelans were stereotyped as wealthy and haughty, an impression that feeds the current dynamic.
Bitterness surfaced on social media in 2015 when a Venezuelan woman in Panama posted angry messages on Facebook, saying that without migrants, Panamanians would be "living in a desert, eating bananas like the monkeys they are."
Furious locals mounted a campaign to have her thrown out of the country. She was eventually expelled under a law that allows deportation of any migrant who incites racial, cultural or political hatred.