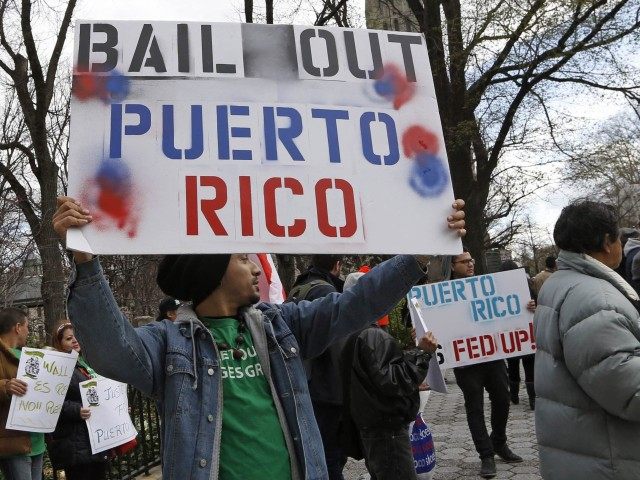 Puerto Rico is set to file the largest public sector bankruptcy in history after vulture capitalist hedge funds that bought big pieces of the island's $73 billion in defaulted debt for pennies-on the-dollar refused to take $24 billion haircut.The U.S. territory made its last-ditch offer to try to avoid a May 1 bankruptcy filing, but failed to negotiate a financial restructuring that would force creditors to take a 23 percent loss on their general obligation bonds and a 42 percent loss on their Cofina sales-tax-backed debt,
according
to EMMA, the Municipal Securities Rulemaking Board website.
​
Breitbart News reported that the big motivation for taking over America's worst welfare den was the fear of up to a million Puerto Ricans migrating to the mainland" if hedge fund "vulture capitalist" investors, who bought up the island's bonds debt at about 30 cents on the dollar, were able to use lawsuits to shake down the U.S. government for a bailout by jeopardizing the island's ability to pay for schools, police officers and health care.
PROMESA gave the control board defacto authority to sell government assets, consolidate agencies, and fire government workers to restructure the island's balance sheet. It also put a retroactive stay on bondholder lawsuits to grab assets liens.