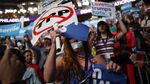 President Donald Trump will sign executive orders on Monday to withdraw the U.S. from the Trans-Pacific Partnership trade deal and renegotiate the North American Free Trade Agreement, according to an official familiar with the plans.
via www.drudgereport.com

Trump repeatedly criticized the TPP and Nafta on the campaign trail, saying the U.S. manufacturing sector had been hollowed out by bad trade deals. Trump was scheduled to meet business executives and union leaders in two separate meetings on Monday, a day the White House cast as focused on trade and job creation.