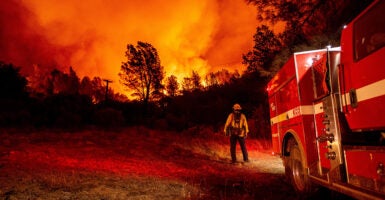 "If you don't start managing these forests, then they are going to start burning up. Thirty years later, they are still ignoring it," Bob Zybach says.
Nearly 30 years ago, President Bill Clinton made a significant change to federal land management that created the conditions necessary for massive wildfires to consume portions of the West Coast, according to a fire expert who predicted the problem years ago.​
via
"It's just … well … it's horrible. Horrible to see this happening when the science is so clear and has been clear for years. I suffer from Cassandra syndrome," Ingalsbee said, referring to the Cassandra Syndrome, a Greek metaphor people use when they believe their valid warnings are not heeded.
"Every year I warn people: Disaster's coming. We got to change. And no one listens. And then it happens."