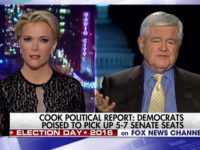 'You Are Fascinated With Sex and You Don't Care About Public Policy'
GINGRICH: I want to hear you say the word. Say "Bill Clinton is a sexual predator." I dare you. Say "Bill Clinton, sexual predator."
via www.breitbart.com

NEWT GINGRICH: Let me point out something to you: The three major networks spent 23 minutes attacking Donald Trump that night, and 57 seconds on Hillary Clinton's secret speeches. You don't think that is a scale of bias worthy of Pravda?