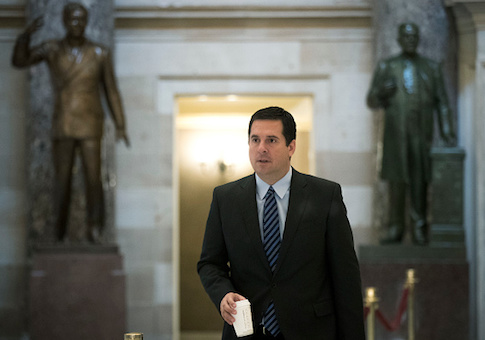 The House intelligence committee will soon receive top-secret documents that investigators expect to reveal whether private communications of the president-elect and his transition team were improperly gathered.
Rep. Devin Nunes (R., Calif.), chairman of the oversight panel, is pressing ahead with an investigation into unauthorized disclosures of intelligence that revealed the identities of Americans inadvertently caught up in foreign electronic surveillance, congressional aides said.

The identification of Americans in the reports and their dissemination within government is raising questions among investigators about whether the Obama administration misused foreign intelligence as part of a political spying operation against the incoming Trump transition team. The NSA intercepts are expected to be supplied to the committee this week. They were requested by Nunes and ranking member Rep. Adam Schiff (D., Calif.) two weeks ago in a letter to the FBI, CIA, and NSA.
The committee leaders stated in the letter that recent press reports appeared to be based on unauthorized intelligence disclosures that violated spy agency rules designed to guard Americans' privacy rights. "We're still waiting to get information back from NSA, CIA, and FBI on unmasking," a committee aide said of the process to identify Americans in foreign electronic surveillance reports.