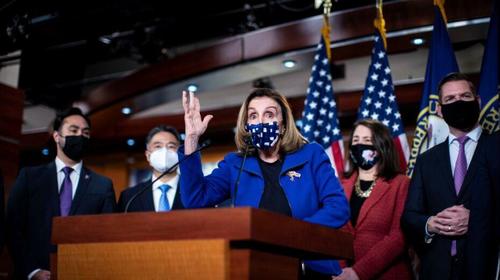 This non-existent second failed impeachment of Trump confirms what the world already learned in his farcical first impeachment in 2019. Impeachment as a solemn tool to preserve democracy, depose an unworthy national leader or mean anything at all is stone cold dead in the United States of America.
​


The aging, absurd, senile and drooling old Democratic political elite in Washington were led over the edge of a political cliff yet again by House Speaker Nancy Pelosi, Democratic Senate Leader Chuck Schumer and House congressional "expert" Congressman Adam Schiff.

They will still revere and mindlessly follow them. Gadarene Swine are incapable of doing anything else.
The Democrats failed to discredit or even politically damage Trump. They revealed themselves as stupid, malignant fools, trying to impeach a powerless president who had already been cast out of office. They failed to plausibly document any of their charges against him. They made a mockery of President Biden's half-hearted, dazedly delivered pledge of bipartisanship and burying of political enmities in his already forgotten Inaugural Address.
The outcome of Trump's second impeachment was therefore a catastrophe for the Democrats. It repeated Obama and Biden's disastrous bungled start to their 2009 administration and it already heralds the rapid isolation and collapse of the Biden regime

What we have just seen is another example of the compulsion of America's liberal ruling elite to make a sick, discredited joke of what is left of their own collapsing and totally bankrupt political system.