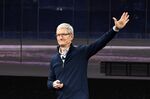 Apple Inc. Chief Executive Officer Tim Cook made his first appearance at China's World Internet Conference, using the surprise keynote to call for future internet and AI technologies to be infused with privacy, security and humanity.
via drudgereport.com

Apple has come under fire for cooperating with Chinese authorities in removing apps that give users there uncensored communications. In November, Apple complied with government orders to pull Microsoft Corp.'s Skype phone and video service from the Chinese version of its popular app store. Cook used an earnings call with investors to justify such moves, saying it obeyed the laws of the markets where it operates.
"Much has been said of the potential downsides of AI, but I don't worry about machines thinking like humans. I worry about people thinking like machines," he said. "We all have to work to infuse technology with humanity, with our values."